Andalas, the first Sumatran rhino born in captivity in more than 112 years. He was born at the
Cincinnati Zoo
on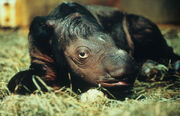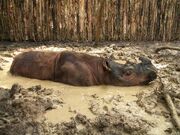 September 13, 2001. He is the first in a long line of Sumatran rhinos that hopefully will be bred in captivity and eventually introduced back into the wild to help bolster wild rhino populations.
Andalas now weighs over 1,600 pounds and has fully adapted to his life in the jungle at the Sumatran Rhino Sanctuary in Indonesia. He will have a baby in July with his mate Ratu at the sanctuary. His parents are the world famous deceased mother Emi, and father Ipuh. His sibling are sister Suci (2004) at the Cincinnati Zoo, and brother Harapan at the L.A. Zoo.
Community content is available under
CC-BY-SA
unless otherwise noted.