One of the largest snakes in the world, the
Burmese python
(
Python molurus)
can grow up to 25 feet long and get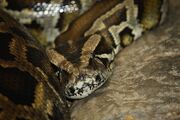 as thick as a telephone pole. Like other pythons, it is a non-venomous constrictor, wrapping its body around prey to suffocate it before swallowing it whole. It can eat animals as large as a leopard and sambar.
Length: 16 to 25 ft
Habitat: Tropical forest
Diet: Birds, mammals, and reptiles
Risk Status: Species at Risk (IUCN—Vulnerable)
Community content is available under
CC-BY-SA
unless otherwise noted.