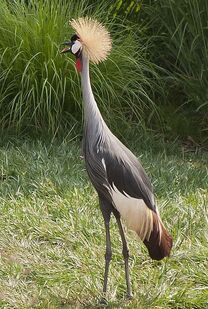 The golden crown of feathers atop the
East African
or
grey crowned crane's
(
Balearica regulorum)
head is not the only thing that distinguishes it from other cranes. It has a shorter bill than other cranes, which allows it to feed on a wide range of foods. Also unlike other cranes, the crowned crane perches and roosts in trees, with the aid of a well-developed hind toe.
Where to see them: Eastern and southern Africa
Height: 3.3 to 3.5 ft
Weight: 6.5 to 8.7 lbs
Lifespan: Up to 25 yrs in captivity
Habitat: Wetlands and grasslands
Diet: Grasses, seeds, insects, and other small animals
Community content is available under
CC-BY-SA
unless otherwise noted.