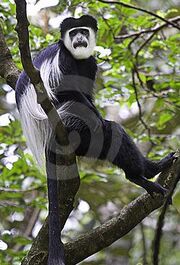 The
eastern
black-and white colobus monkey
(
Colobus guereza) or the manteled guerza
spends most of its time feeding in the canopy and rarely comes down to the ground. Its reduced thumbs allow the monkey to form a hook-like grip which aids in swinging as it travels from tree to tree. It is also an expert leaper, using its long tail as an air-brake.
Where to see them: Central and eastern Africa
Length: 1.7 to 1.9 ft
Weight: 18 to 30 lbs
Lifespan: Up to 20 yrs
Habitat: Forest Canopies
Diet: Primarily leaves, some fruit
Community content is available under
CC-BY-SA
unless otherwise noted.