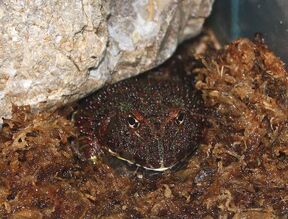 The "horn" of the ornate horned frog (Ceratophrys ornata) is a curious triangular prolongation of the edge of the upper eyelid. It is not hard or sharp, as it is only a flap of skin, but perhaps it makes the wide head appear even wider and therefore less acceptable to the forest creatures that would normally dine on these frogs.
Where to see them: Eastern Brazil and eastern Argentina
Lifespan: 10 years in captivity
Length: 4.5 to 6.5 inches
Habitat: Tropical rainforest
Diet: Snakes, lizards, mice, and other vertebrates
Community content is available under
CC-BY-SA
unless otherwise noted.