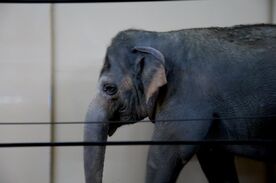 Princess Schottzie II or just Schottzie, is a female Indian Elephant currently located at the Cincinnati Zoo. She was born on December 15, 1975 at the Copenhagen Zoo from her parents Sak and Buag Hah. She has had been to other zoos over the years like the Fort Worth Zoo in 1990 and1996 during some of Cincinnati's renovations. Schottzie currently has 3 live siblings but has had a total of 10. She is named of Marge Schott, a former general manager of the Reds who also donated money to the zoo to help build their elephant exhibits.
Community content is available under
CC-BY-SA
unless otherwise noted.