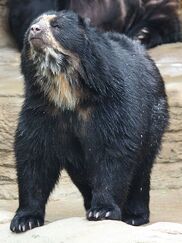 The only bear native to South America, the
spectacled
or the
Andean bear
(
Tremarctos ornatus
) is the most arboreal of the bears. Long sharp claws are used to climb trees. Folding over tree branches, the bear forms a platform from which to forage on fruits. It may sleep and feed from its nest for days.
Where to see them: Northwestern South America
Length: 4.3 to 6.6 ft
Weight: Male – 220 to 440 lbs, Female – 130 to 175 lbs
Lifespan: Up to 39 yrs in captivity
Habitat: Mountain forests, grasslands, and scrub desert
Diet: Primarily fruits, bromeliads, bamboo, cactus, and other plants, some small animals
Risk Status: Species at Risk (IUCN—Vulnerable)
Community content is available under
CC-BY-SA
unless otherwise noted.