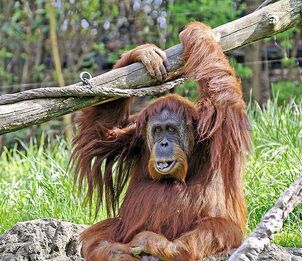 Orangutan means "person of the forest" and is a fitting name for a primate that is happy to spend its day hanging out in the treetops. The only truly arboreal ape, the
Sumatran orangutan
(
Pongo pygmaeus abelii)
is also the largest tree-dwelling animal. The big ape is too heavy to jump from tree to tree so when it needs to cross a gap in the canopy, it will sway the tree back and forth until it can reach out with its long arms and grab a neighboring tree with its hook-like hands. As a large animal with a hefty appetite for fruit, the red ape's survival requires the protection of large areas of forested habitat.
High up in the trees, the orangutan is safe from its main natural predator, the tiger. An orangutan can spend an entire day gorging on fruit in a single tree.
Facts
Pronunciation: oh-RANG-u-tan
Where to see them: Northern Sumatra
Height: 3.8 to 4.5 ft
Weight: Male - 130 to 200 lbs; Female - 88 to 110 lbs
Lifespan: Up to 35 yrs in wild
Habitat: Tropical rainforest
Diet: Fruit, shoots, bark, insects, vines, bird eggs, and small vertebrates
Risk Status: Species at Risk (IUCN—Critically endangered)
Community content is available under
CC-BY-SA
unless otherwise noted.